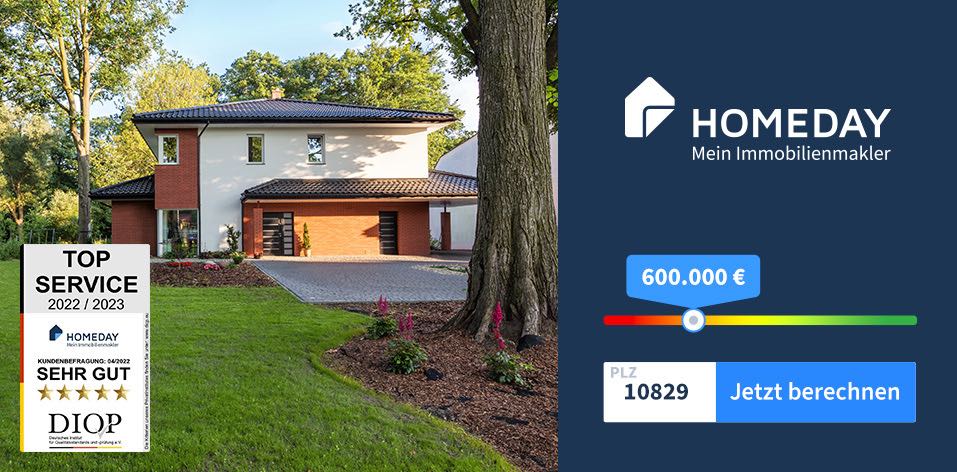 Homeday awarded for "Top Service"
The real estate agent Homeday GmbH, which operates nationwide, has been awarded the seal of quality by the DIQP with the name "Top Service (DIQP)" and the rating "very good".
The basis for the DIQP seal of approval was an independent customer survey and a management interview. After the subsequent evaluation by the independent certification company SQC-QualityCert, Homeday was awarded the "Top Service (DIQP)" seal of approval.
Through the independent customer survey, the opinions of customers were collected and are now made visible in the form of customer ratings. Unlike other awards for customer service, the Top Service (DIQP) service seal was awarded a rating of "highly recommended" by the independent consumer platform Label-online.de, the best possible rating on Label-Online.de for a label.
The consumer platform Label-Online.de evaluates various labels according to a standardized matrix. It examines, for example, what claim a label formulates, how independent its award is, what controls are provided and how transparent this process is for consumers. The consumer platform is funded by the German Federal Ministry of Justice and Consumer Protection (BMJV).
"According to our evaluation, Homeday offers an excellent service, which is highly appreciated by the company's customers. We congratulate the entire team at Homeday," says Oliver Scharfenberg, the managing director of SQC-QualityCert.
Homeday is a next-generation real estate brokerage combining modern technology with the expertise of experienced agents. More than 230 independent partner brokers are personally on site as regional experts for sellers and buyers throughout Germany. They are supported by around 260 Homeday employees, for example from the areas of customer consulting, product development and marketing. The service covers the entire sales process – from property valuation to handing over the keys. For example, Homeday employees obtain the documents required for the sale, create an exposé with professional photos, advertise the property, communicate with prospective buyers, and finally ensure that the sale is concluded in the best possible way.