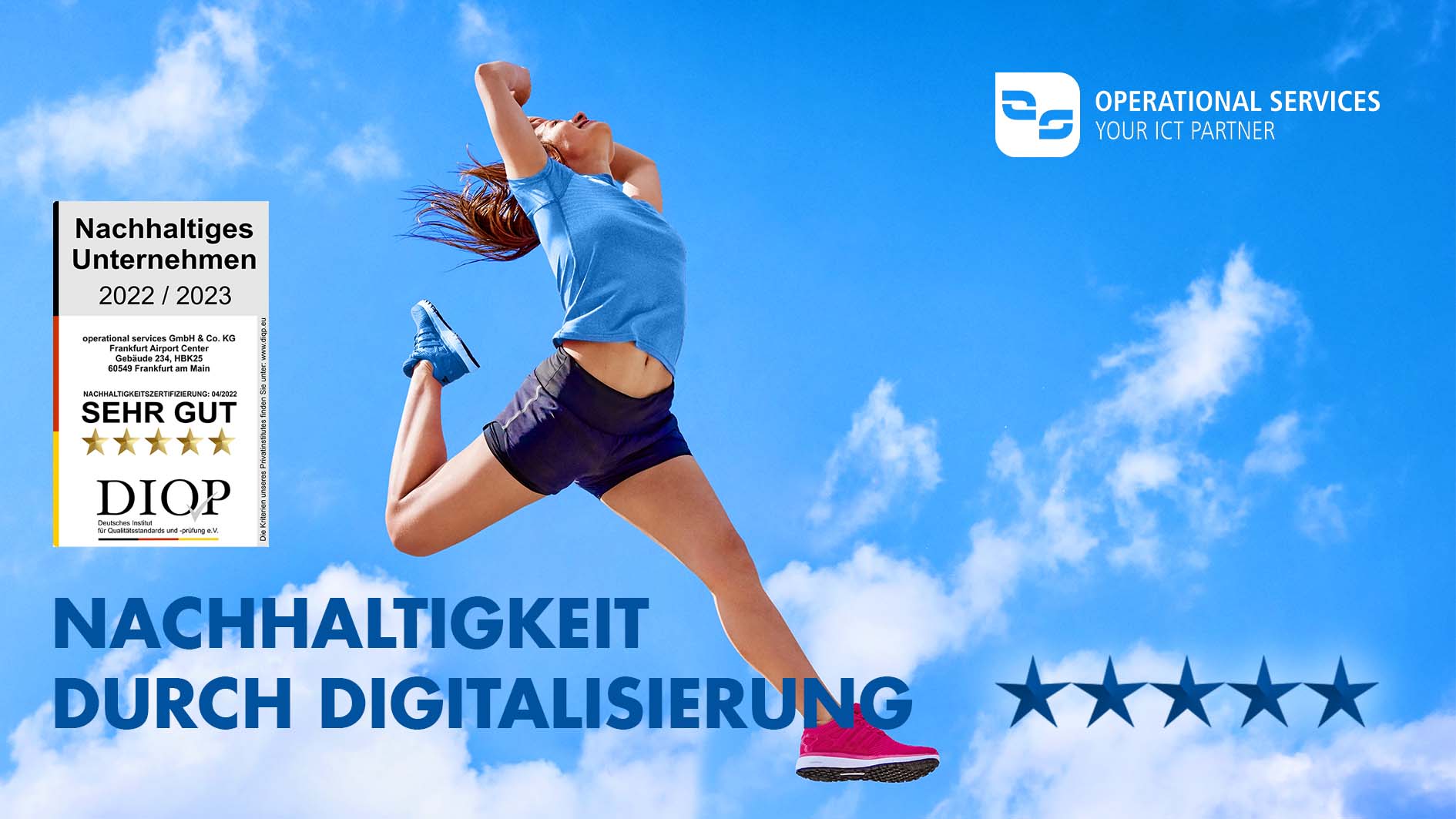 operational services certified as a sustainable company (DIQP)
operational services has been certified as a sustainable company by the German Institute for Quality Standards and Testing (DIQP). With the 5-star rating, DIQP certifies the ICT service provider's special commitment to achieving ecological, social and economic goals (ESG).
Together for more sustainability
As one of the leading digitization partners in Germany, operational services stands for sustainable managed ICT services. Sustainability goals are part of the corporate strategy. Target achievement and progress are actively measured as part of corporate management and steered by the management. The ICT service provider was quick to switch to the full use of green electricity, particularly with regard to its own data center. Electronic components there are gradually being replaced with new, more energy-efficient ones.
In order to further reduce greenhouse gas emissions, operational services has also initiated various effective measures in recent years: For example, the desk-sharing model means that the company's approximately 1,000 employees consume less work space, heat and electricity overall. To reduce travel and business trips, operational services relies on mobile working and virtual meetings. If a change of location is necessary, the OS teams use trains instead of cars or planes.
Furthermore, all newly acquired vehicles have been powered by electricity since this year – and the company is converting its own fleet completely to electric vehicles by 2026. For even more mobility, employees can access job tickets, company bicycles and e-scooters and benefit from subsidies for wallboxes so that they can also charge e-cars at home.
Dr. Ulrich Müller, spokesman for the management board of operational services, emphasizes: "We are the backbone of digitization and see great opportunities in digitization to also rethink the topic of sustainability. Virtual meetings and hybrid workplaces have become standard for us and many of our customers. This saves us a lot of CO2 while still remaining productive at all times. This year, almost half of our fleet will be equipped with e-cars. And for the next four years, we have set ourselves the goal of switching completely to electromobility. The DIQP sustainability seal shows us that we are on the right track."
"For us, but also for many other companies in the industry, reducing greenhouse gas emissions as well as social commitment is a mandatory measure. It has radiance in onboarding new customers and committed employees. That is why ESG issues are always on the agenda of our management," adds Dr. Müller.
Operational services is voluntarily offsetting its remaining environmental footprint of 400 tons of greenhouse gas emissions over two years by investing in sustainable energy projects. This investment can be viewed publicly here.
The sustainability seal from independent experts
With the "Sustainable Company (DIQP)" sustainability seal, the German Institute for Quality Standards and Testing evaluates the sustainable commitment of companies in Germany. The standard is based on economic, ecological and social goals, with the term sustainability being based on the definition of the Brundtland Commission. The focus is on developments "that meet the needs of the present generation without compromising the ability of future generations to meet their own needs and choose their own lifestyles." The Sustainable Enterprise Standard (DIQP) is based on the Global Compact, the United Nations Sustainable Development Goals (SDGs), and other indicators for comprehensive sustainability assessment. To maintain independence, the institute is certified by the independent certification company (SQC-QualityCert). Details on the assessment and evaluation criteria for awarding the sustainability seal / sustainability certification for sustainable companies are publicly documented here.