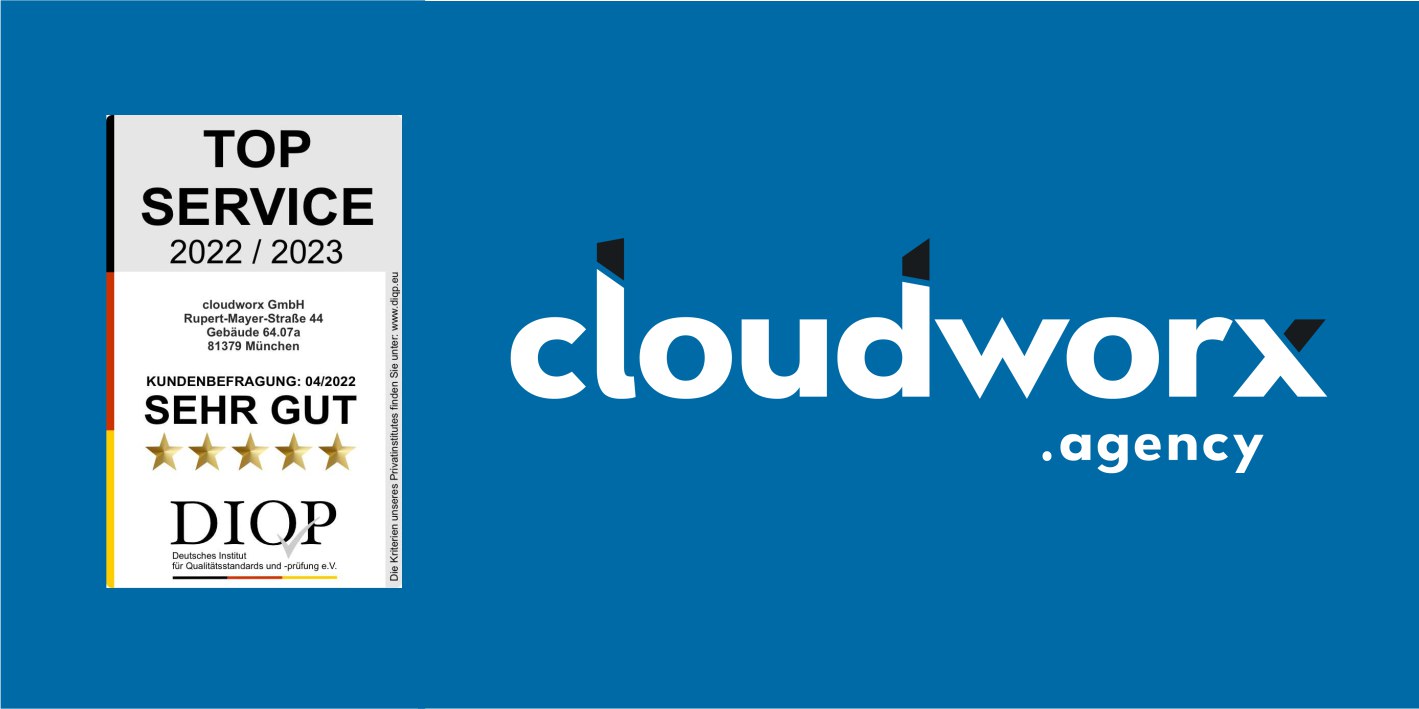 Cloudworx awarded with "Top Service" quality seal
The cloudworx GmbH from Munich has again received the quality seal "Top Service (DIQP)" and the rating "very good" from the DIQP (Deutsches Institut für Qualitätsstandards und -prüfung e.V.).
The basis for the award of the DIQP's high-quality seal was a customer survey which was supplemented by a management interview. After the subsequent evaluation of the customer survey by the independent certification company SQC-QualityCert, cloudworx was awarded the quality seal "Top Service (DIQP)" with the rating "very good".
Through the independent customer survey, the opinion of the customers was recorded and now shows this with the seal of DIQP in the form of customer ratings. Top Service (DIQP), unlike other awards for customer service, was awarded the rating "highly recommended" by the independent consumer platform Label-online.de, which is considered the best possible rating on Label-Online.de for a label.
The consumer platform evaluates various labels according to a standardized matrix. It examines, for example, what claim a label formulates, how independent their award is, what controls are provided and how transparent this process is for consumers. The consumer platform is funded by the German Federal Ministry of Justice and Consumer Protection (BMJV).
"According to the evaluation of the customer survey, Cloudworx offers a very good service and has a very high customer satisfaction. We congratulate the entire team at Cloudworx," says Oliver Scharfenberg, the managing director of SQC-QualityCert.
The managing director of cloudworx GmbH Timo Müller says: "Our claim is to offer the highest possible customer satisfaction. The independent customer survey has shown that we have once again lived up to our claim. We are very happy about the renewed award by DIQP and the excellent rating. We would like to thank our customers for participating in the customer survey."
Cloudworx is a digital process design and optimization agency as well as a manufacturer of Salesforce extensions that close the most common gaps in digital processes.
The company accompanies business customers on the path to digital transformation. To this end, existing company processes are analyzed in the first step and a digital ideal is then created. The goal is to greatly minimize manual efforts and achieve a high degree of automation.