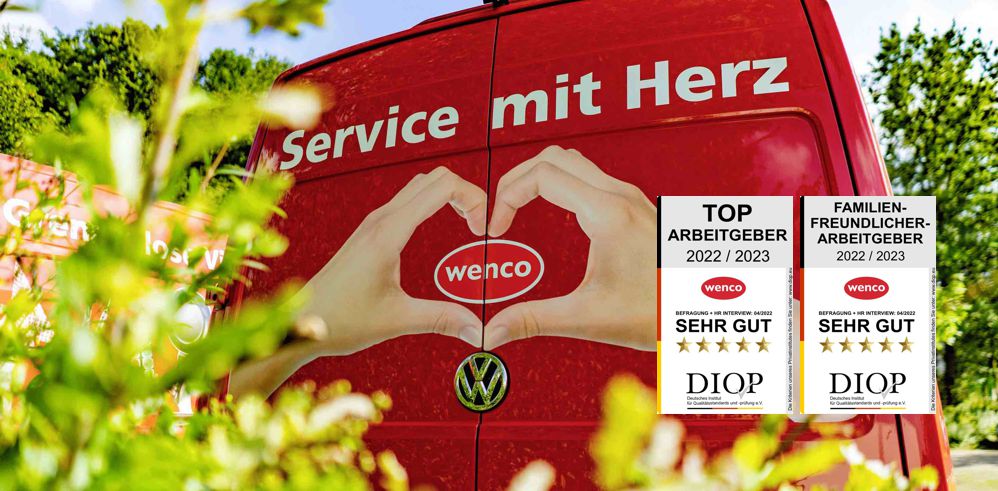 Wenco receives an award as a top employer and another for its family-friendliness
Wenco GmbH & Co. KG has every reason to be pleased, because the company has received two awards as an employer with the rating "very good" from DIQP Deutsches Institut für Qualitätsstandards und -prüfung e.V. (German Institute for Quality Standards and Testing).
The basis for the award of the DIQP employer seals was an independent employee survey and an HR interview. After the subsequent evaluation by the independent certification company SQC-QualityCert, Wenco was awarded the employer seal " Top Employer (DIQP)" and " Family-friendly Employer (DIQP)".
The methodology took into account the opinions of employees and the company's performance. The Top Employer (DIQP) award and the Family-Friendly Employer (DIQP) employer seal, unlike other seals, were awarded the rating "highly recommended" by the independent consumer platform Label-online.de, which is considered the best possible rating on Label-Online.de for a label.
The consumer platform evaluates different labels according to a uniform matrix. It examines, for example, what claim a label formulates, how independent their award is, what controls are provided and how transparent this process is for consumers. The consumer platform is funded by the German Federal Ministry of Justice and Consumer Protection (BMJV).
"According to our evaluation, Wenco is an excellent employer. We are very pleased with the result and congratulate the entire team at Wenco," says Oliver Scharfenberg, the managing director of SQC-QualityCert.
Wenco has been operating throughout Germany for over 50 years. Initially, Wenco started as a pure textile wholesaler and it was not until the end of the 1960s that the idea of becoming a goods service provider for German retail companies was born. After successful decades of many companies working together, mergers gradually took place. In the meantime, all wenco operations have grown together to form a strong company that supplies the German and, in some cases, international retail landscape with non-food articles from its two logistics locations in Hennef and Essen via various loading points.
Wenco employs more than 600 people in Germany and Austria. The company has 11 sales locations in Germany and Austria and is increasingly committed to sustainability and climate protection in order to preserve resources, our environment and biodiversity for the next generation. Wenco offers a variety of open positions at https://www.wenco.de/de/unternehmen/job-und-karriere.html and looks forward to receiving applications.